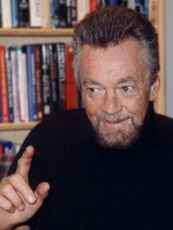 Stephen J. Cannell
. . . television, film, novel writer. Mr. Cannellís 40 television series include "Rockford Files," "The A-Team," and "The Commish." The Viking Funeral, exposing the role of corporate America in drug money laundering, is among his best-selling novels, often adapted for film. In addition to acting stints, Mr. Cannell revolutionized the American television business, moving production into Canada in the 1970s. He is a leading spokesperson on issues relating to dyslexia. Mr. Cannell succumbed to melanoma in late September, 2010.

3:21
Billions of illegal drug dollars are laundered in a "parallel market" of which American Fortune 500 companies and other giant corporations are part, according to once-skeptical Stephen J. Cannell. He focuses on this apparently massive money laundering industry in his novel, The Viking Funeral. But the parallel market itself is no fiction, he insists. Only the American public seems unaware of it, he says, pointing to Congressional hearings, people in law enforcement and penalties paid.
Stephen J. Cannell is legendary in the entertainment world. In addition to writing, he is a producer and savvy business man, having spearheaded forty series in all, from "Rockford Files" to "21 Jump Street." He also revolutionized the American television industry by relocating much of his production to Canada. Now Mr. Cannell writes novels. He works hard to combine serious investigative reporting with entertainment, weaving newspaper headlines into bestsellers. And perhaps surprisingly, he attributes much of his success in all of his work to his dyslexia, a "learning disability" associated with geniuses from Einstein to Edison.
Mr. Cannell says this parallel market story is available but at best, it's been buried in the business page, pushed off front pages by sex scandals. This novel, like his others he says, is the result of serious research which allows him to feel sure his fiction could be fact. A conservative Republican, Mr. Cannell wants to make sure people understand that he believes in the American economy and in America's corporate system of profits. But he also trusts his friends in law enforcement. They assure him that the Justice Department knows about this parallel market and so does the U.S. Congress and major American corporations which have paid multi-million dollar settlements for participating in it. Mr. Cannell wants the rest of us to know, too.
Mr. Cannell's fascination with law enforcement is a common theme throughout his work. Why? Historically, great drama depends on life-or-death issues he points out, noting the murder at the heart of "Hamlet." Enter law enforcement. In addition, Mr. Cannell's drawn to morality plays. He knows they've gone out of fashion in television and literature. He thinks that's because people find more shades of gray in life. That's fine with him -- "gray" is where he wants to be. So "Good and Evil," meet "Achilles' Heel" while investigative reporting weaves itself into entertainment. When the result is a Stephen J. Cannell story, you can be pretty sure there is a moral to it.
[This Program was recorded January 16, 2002, in Atlanta, Georgia, US.]