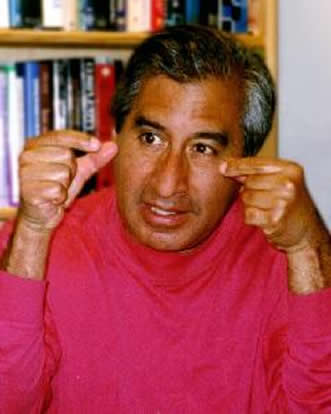 Richard Rodriguez
. . . cultural observer. Author of Brown: The Last Discovery of America, Days of Obligation: An Argument with My Mexican Father and Hunger of Memory, Mr. Rodriguez is also an editor at the Pacific News Service in San Francisco. He is a contributing editor for "Harper's" magazine, for the Sunday "Opinion" section of the Los Angeles Times and for The New York Times. He has been a regular essayist on the "NewsHour with Jim Lehrer" since the early 1990s.

3:54
We don't yet know what it meant when Columbus and Indians found each other in 1492, says Richard Rodriguez, while we continue to live with the consequences. The beginning of a new century finds America in the midst of colliding ideas and an explosion of thinking which Mr. Rodriguez characterizes as "Brown" -- the color that combines all colors, includes the contradictory.
Richard Rodriguez is working to take America back from loud-talking pundits and politicians. He says America is brown in the same ways he is, a glorious blend -- descendent of the Conquistador and the Indian, a gay man and also a Roman Catholic, culturally descended from both the Spanish and the English empires, half-way between the greenness of youth and the white of old age in his middle years -- a melt-down that far surpasses the color of his skin. Why have we not talked about "brown" before when we embody it? Because, says Mr. Rodriguez, sex is at the heart of brown and Americans are uncomfortable with the fact that people fall in love. Love crimes, he says, are more dangerous today than hate crimes.
Acknowledging that people fall in love explained brown children playing behind Monticello. It now explains the American girl who says she's a Jewish-Muslim. Why is Richard Rodriguez able to see what he calls another energy at work, one that has always been at work in American culture but is seldom acknowledged? Because, he says, his deepest secret was an erotic one: he has always been in love with the "wrong" sex.
Since Mr. Rodriguez is confident religion is going to be the great energy of the 21st century -- dividing us, uniting us and causing conflict -- we need to leave behind the thrice-divorced pundits and politicians screaming "family values" and engage each other, struggle together to understand what it means to be an American. We need to bring the three communal desert religions to which most Americans adhere together with our Hellenistic culture of individualism. "We" and "I" are both required to create a shared future, he reminds us
Being alive today means living many lives, simultaneously, Mr. Rodriguez concludes. We change our identities the way kids change channels. He sees this as part of a larger shift, a dialectic he perceives as America moves away from its traditional East-West orientation to the country of El Norte -- posed between the desert and the tundra, between hot and cold, Canada's cerebral "multi-culturalism" joined to Mexico's deep understanding that people fall in love. Both are intent on melting down the identities which drive people apart. Mr. Rodriguez looks forward to the day when we all say "Yes" to every category offered by the Census Bureau, when we all belong to an American experience that connects African-Americans and the Chinese who helped build California in the 19th century, to Richard Rodriguez's Mexican ancestors. Only then will we know the true meaning of success.
[This Program was recorded May 21, 2002, in Atlanta, Georgia, US]